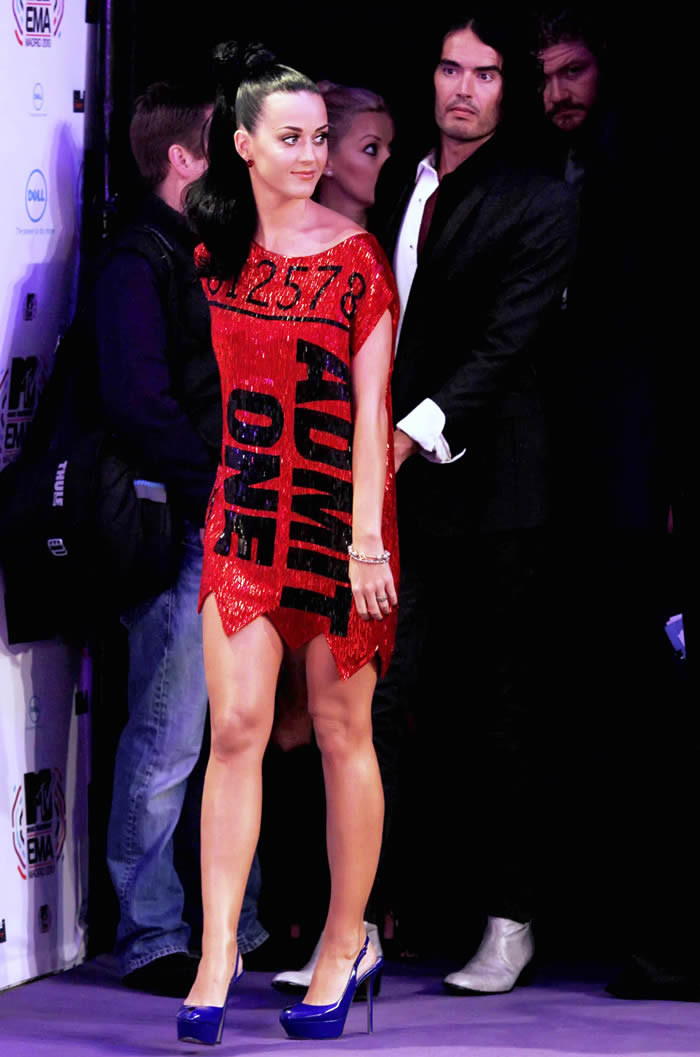 Yes, I know — it's yet another story about the allegedly precarious state of Katy Perry and Russell Brand's marriage. Beyond the text of this post, however, I'd like to point out a rather telling sign about the couple that always loved to be papped together, which is that they're so rarely seen together these days. Consequently, I've had to pull up some "old" photos just to avoid merely recycling the same ones that we've been using for the past six months. Seriously, what gives? Between running to their publicists, talk show hosts, and
People
, they've been working overtime to assure the public that their marriage is absolutely wonderful. Yet Katy's no longer on tour … so why are she and Russell still
living
separate lives?
Katy and Russell didn't even spend Christmas together although someone (ahem) informed People that they were together in Kauai over the holidays despite a lack of photo evidence that they were both in attendance in the same geographical location. Instead, People has one photo of Katy in a bikini and has now changed its headline from "Katy Perry
Vacations in Hawaii
with Hubby Russell Brand" to just "Katy Perry Vacations in Hawaii." For two people who really want the world to believe they're still together, they are certainly sending a clear signal that everything between them is anything but okay:
It was no white Christmas for Katy Perry.
The newly blonde "Teenage Dream" singer, 27, soaked up some tropical sun on Sunday, flaunting her body in an itty-bitty bikini while frolicking through the ocean in Hawaii.
The pop star was vacationing on Kauai in a private rented luxury villa.
As for the two, an onlooker tells us, "Katy and Russell looked very happy when they stepped off their private plane in Kauai before Christmas weekend."
During her time at

the beach

, Perry was joined by BFF Markus Molinari, among other friends. (Russell was not pictured in the photos at the beach.) And she appeared to enjoy the water, while also taking time to relax on the sand.
[From People]
In sharp contrast (and possibly the reason that Russell's name disappeared from the aforementioned story title) to People's story, the Mail reports that Katy and Russell were
indeed
both sighted on Christmas Day, but they were approximately 7000 miles apart from each other. How utterly romantic, right?
They've vehemently denied that their marriage is in trouble, but Russell Brand and Katy Perry have been spotted celebrating Christmas Day on opposite sides of the globe, according to reports.
Superstar Perry, 27, was photographed enjoying the tropical waters in Hawaii on the big day, and was not wearing her

wedding ring

as she enjoyed the surf with a

group

of friends according to an eye-witness.
Meanwhile, Britain's Sun newspaper is reporting that Russell, 36 , was over 7000 miles away in a Cornwall pub, before heading along to his friend David Baddiel's charity swim, where he was pictured.
Both The Sun and People magazine report that Katy and Russell have rented properties in the respective beauty spots to spend the festivities together.
And while People quote a source that places Russell in Kauai, they point out that he was never pictured on the beach with his wife.
So they appear to have gone their separate ways to celebrate the time of togetherness in

very different

fashions, if these sightings are accurate.
Russell was also spotted at Winter Wonderland in London's Hyde Park on Tuesday without Katy.
[From Daily Mail
Well, one thing is certain -- that story about Russell and Katy planning a holiday vacation to save their marriage was total nonsense. Or maybe the planning actually happened on the part of Russell, but Katy just wanted to go surfing in Hawaii instead instead of hanging around London with her, uh, husband because that would make too much sense, right? Perhaps I was more correct than I ever wanted to be about the "sink or swim" theory in regard to this couple, but at this point, work is no longer an excuse for not spending time together. What an ominous sign.
At any rate, I think the latest round of pregnancy rumors can also be put to rest by Katy's bikini beach bod from a few days ago. Kaiser was right about Katy looking kind of pregnant a few weeks ago while promoting her latest perfume, but she's also got a bit of a swayback posture too, which sometimes makes her tummy seem larger than it really is. Also, I really do think that Katy is much too selfish (at this point and possibly forever) to give up her life (or, at least, the alcohol) for a baby.