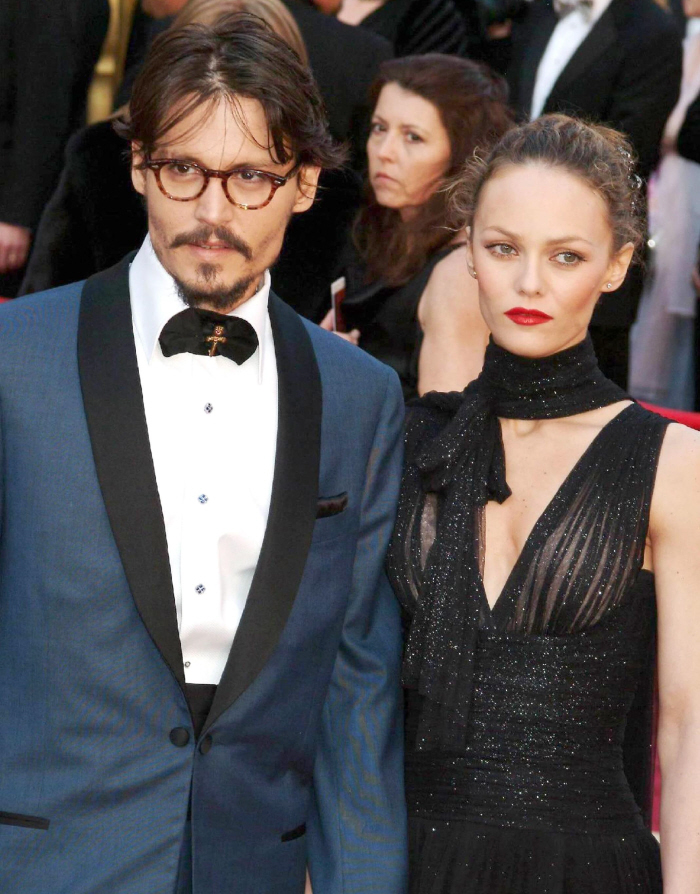 A few weeks ago,
Star
Magazine
had an interesting story about Johnny Depp. According to their
sources
, Depp has been acting kind of crazy lately because he's in the midst of an alcohol-soaked mid-life crisis.
Vanessa
Paradis, his partner of more than a decade, is not amused. Allegedly, Vanessa has basically told him to go away, get his act together, and then come back to her and the children. Meanwhile, Johnny is still partying and working and basically acting like a single dude. Now, Radar and Star are owned by the same parent company, and this Radar story sounds a lot like
Star's
report – but I still find it interesting.
Hollywood heavyweight Johnny Depp's long term relationship with Vanessa Paradis is on the rocks RadarOnline.com has exclusively learned, and the actor is struggling to deal with their crucial problems, says a source.
Johnny, 48, and

the mother

of his two children, have been arguing constantly and this may be the end for the

couple

as they head towards Splitsville.
"Johnny isn't handling anything well right now," a source close to the Pirates of the Caribbean star told RadarOnline.com.
"People around him are worried about how Johnny is doing because he and Vanessa seem so fractured right now. Their relationship is heading toward the end."
While Depp's movies are doing well, his personal life may be falling apart. "Johnny has started reaching out to lawyers, probably to quietly discuss how to get out of the relationship. They're not married but they've been together for years and have kids together so it isn't as easy as just breaking up," the source said.
While Johnny has tried to put on a brave face for his children, the source said friends are concerned about him.
"Johhny is so talented at acting, but he doesn't seem able to hide how badly things are going right now."
[From
Radar
]
On one side, it's really sad to think that Johnny and Vanessa could be headed for a split. They have an unconventional relationship in general – and I'm not just talking about the whole "famously unmarried" stuff. In Depp's interviews over the past few years, I find it remarkable how often he and Vanessa are not in the same city. She's rarely with him while he's on location, and it just doesn't seem like they spend that much time together in general. So… that's sad. On the other hand, it would certainly be interesting to see Johnny Depp as a single bachelor in his 40s, right? How many A-list women would try to hop on that? I think Penelope Cruz and Marion Cotillard might have a head start. Maybe even Amber Heard…